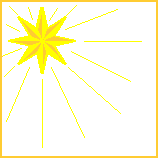 Epiphany
Theme
The theme of the season of Epiphany is the appearance of God to man in the birth of Christ; specifically the day of Epiphany commemorates the coming of the Wise Men to honor the infant Jesus as God and King among the Gentiles. During this season various aspects of Jesus' life and ministry are explored, highlighting His identity as God-become-man. Epiphany is also a time to consider the mission that Jesus has given to the Church.

The King Cake, a traditional dessert served during Mardi Gras, refers to the Wise Men (Three Kings) and their search for the infant Savior. Thus, the person who finds the tiny plastic baby hidden in the cake is the favored person (who also gets to buy the next cake). The traditional colors of the cake are significant: purple for justice, green for faith, and gold for power.
Dates
Epiphany begins on January 6 (often celebrated on the Sunday prior) and ends on the Sunday before Lent.

January 6 - Epiphany
Sunday after January 6 - Baptism of our Lord
February 2 - The Presentation (Christ's presentation at the temple as an infant)
Sunday before Lent - Transfiguration Sunday
Colors
Epiphany is traditionally celebrated with the color Green. Green is the color of life and growth, so it is appropriate as we remember the life and ministry of Christ. On Epiphany itself and on Transfiguration Sunday, White/Gold are used. These colors symbolize innocence and triumph, so they are appropriate both in the context of the initial nativity (Epiphany itself) and the Transfiguration.
More Information
Visit these sites to learn more about the significance of Epiphany and how to celebrate this church season with your family: