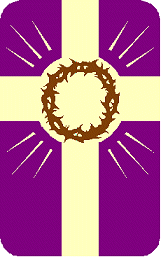 Lent
Theme
The theme of the season of Lent is repentance and humility before God. During this season Christians often emphasize prayer, fasting, and charitable deeds as they focus on preparing their hearts for the joy of Easter.
Dates
Lent begins on the seventh Wednesday preceding Easter Sunday (Ash Wednesday) and ends on the Saturday before Easter.

Seventh Wednesday before Easter - Ash Wednesday
Thursday before Easter - Maundy Thursday
Friday before Easter - Good Friday
Saturday before Easter - Holy Saturday
Colors
Lent is traditionally observed with the color Purple. Purple represents both the pain and suffering Christ experienced as he approached the crucifixion as well as the suffering of all humanity under sin. Purple also represents royalty, which foreshadows the resurrection.
More Information
Visit these sites to learn more about the significance of Lent and how to celebrate this church season with your family: